Support
Manuals
Manuals are require a pdf viewer.:

TouchN'Go Internet Edition Manual

Troubleshooting

Check the log file for messages which can be helpful when troubleshooting. This is typically located at C:\Program Files (x86)\tngweb\tng.log

Be sure to right click the icon and choose to "run as an administrator" when starting the TNG web admin utility.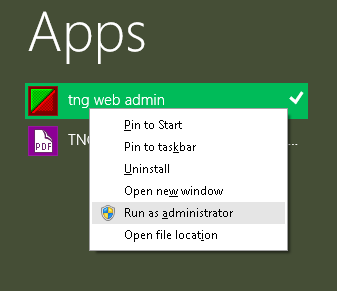 We welcome your comments and suggestions. Many of the improvements we incorporate into our software are the results of users comments.

Touch N' Go In-And-Out Board
provided by Bright Solutions, Inc.
Box 211032 Anchorage, AK 99521

Support & Sales: (907) 338-8188
9-5pm M-F Alaska Standard Time (GMT-9)
That's 1-9pm Eastern

Fax: (907) 333-5869